The last 24 hrs have been pretty active on the elephant seal front. Yesterday morning I woke up to find Squall, the pup, right up against the door of the house, Misery laying about 12 ft away and no sign of Bertha, the mother.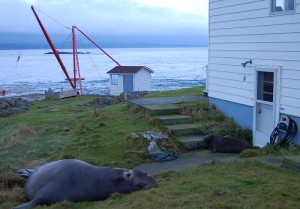 Bertha had been looking increasingly skinny, tired and pale the past days and had likely given the pup all the milk, and Misery all the mating, that she could give.  She has been remarkably self-sacrificing and resilient, an impressive job of being a mother. I like to think that she is out there somewhere feasting on fish and getting some well deserved rest.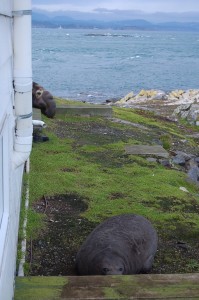 Now that Bertha is gone though, and can no longer distract Misery, he seems to be getting more aggressive.  Yesterday he chased the pup several times and had his jaws around it twice, if he had wanted to do the pup harm he easily could have, but he did not.  Apparently, in past years, Misery has tried to mate with a young pup.  The pup eventually made his away around the N side of the house and hid under the staircase. Misery again chased it later around the E side of the house where it seems to be out of his reach.
The pup stayed on the East side of the house shown in the photo last night and is still there today.  It has been making a lot of noise, presumably calling for its mother.