Below  is the first set of image taken of Anas carolinensis, the green-winged Teal at Race Rocks.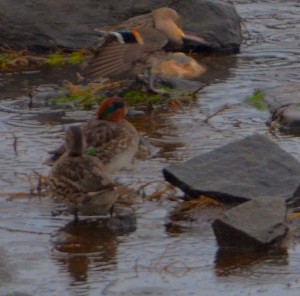 The male plumage shows up in this picture .
Ecoguardian Alex Fletcher took this first set of images of green-winged teal ducks at Race Rocks in December 2012. 
These ducks are common over on Vancouver Island but we have never recorded them out here before.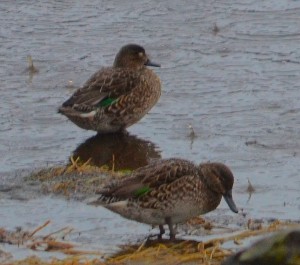 I suspect it was because there were many freshwater ponds on the lawns with the heavy rains recently on the island.
Classification:
Domain: Eukarya
Kingdom: Animalia
Phylum: Chordata
Subphylum :Vertebrata
Class: Aves
Order: Anseriformes
Family: Anatidae
Genus Anas
Species caroliniensis
Common Name: Green-winged teal.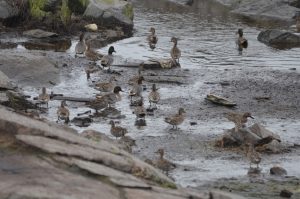 On January 13, 2018 Ecoguardian Laas Parnell records  an new sighting in her log.
Return to the Race Rocks Taxonomy and Image Gallery Index:
This file is provided as part of a collaborative effort by the students, faculty, staff and volunteers of Lester B. Pearson College and website viewers on our remote cameras on the internet. Dec. 18, 2012– Alex Fletcher