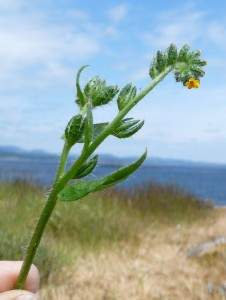 This fiddleneck, Amsinckia menziesii  was a recent arrival to the islands,  (2011) In that year , although not a garden escape, it colonized many areas at Race Rocks possibly because of its unpalatability to Canada geese.
Note the fiddle shaped seed heads of Amsinckia spectabilis.
Scientific classification
Kingdom: Plantae
(unranked): Angiosperms
(unranked): Eudicots
(unranked): Asterids
Order: (unplaced)
Family: Boraginaceae
Genus: Amsinckia
Species: A. menziesii
Amsinckia menziesii  (Lehm.) Nelson & J.F. Macbr.
Fiddleneck,  Menzie's fiddleneck, Menzies' fiddleneck, small flowered fiddleneck
Other Angiosperms (flowering plants) at Race Rock