Weather
Visibility: 15 miles
Wind: 5-10 knots North
Sky: clear
Water: rippled
Amazing pink/red sunset!
Ecological
Just one elephant seal on Great Race today.
Three elephant seals on Middle Rock though.
Maintenance
Some goose work.
Set up and took away barrels for diesel transfer.
Boats
A couple of eco-tours came by.
Second Nature came out with diesel.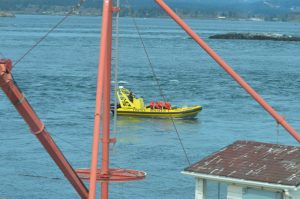 Visitors
Kyle and two English volunteers came out with diesel.
I gave the two lads a tour while Kyle transferred the diesel.
Other
Some DND blasting today.
Medium blasts at 11:30, 11:32, and 12:13.
Bigger blasts at 14:47 and 14:49.