The west wind blew all night and by daylight, the 30 to 35 knot winds had sucked in low cloud, rain and rough seas from offshore. Winds increased to 35 gusting to 40 knots in the late morning and continued unabated all afternoon. Air temperature was close to yesterday's sea surface temperature of 9.7 o C and with the wind chill was hovering around 4oC. Light levels were the lowest of the last week and not even 60% of yesterday. The barometer bottomed out just before midnight last night and has been slowly creeping up and out of its hole today. Gale warnings remain in effect for tomorrow with the wind predicted to turn southeast Thursday.
The only thing not affected by the wind today was the stone tower.
There were no whale-watching tour boats in the Ecological Reserve today. Sea conditions were not conducive.
The ecological focus today was to observe how the mega-fauna behaved in the wind. Only a few sealions hauled out, the remainder rested in the water near the haul-out where it was probably quite a bit warmer without the wind chill factor.
The Northern Elephant Seals made a huddle and "took turns" being in the coveted central, heating position. One female slept off by herself, maybe not quite as warm but definitely more peaceful. Only #5850 went for daily ablutions, the others stayed dry, even if a bit mucky.
Glaucous-winged Gulls hunkered down with heads under wings, keeping a low profile and perhaps holding on with their toenails, as they seemed to totter and grimace during the big gusts. The geese with nests were on them with ganders close by guarding and staying low. The three pairs that are still trying to set up nests were observed chasing gulls . The Bald Eagles, so ubiquitous every other day for the last 25 days, were nowhere to be seen, nor were oystercatchers, turnstones, nor guillemots.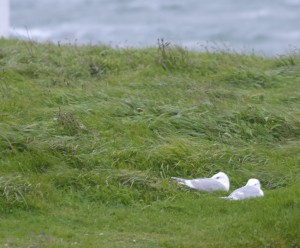 Two marine science classes were supposed to visit today but the weather just didn't cooperate and Courtney wisely cancelled the trips. Thus there were no visitors and chores were basic routine.