Thick fog met me at dawn, not the sleepy kind that coffee cuts through, but dripping wet, zero visibility, fog created through the convergence of cold ocean water and warm air. The fog retreated and advanced repeatedly before it was beaten back by high wattage sunshine. The westerly wind blew throughout, at 5 – 15 knots only rising near sunset to closer to 20. The barometer started a gradual drop in pressure late morning yet the forecast is for sunshine and continuing westerlies.
There were a few whale watching boats in the area mid-morning with two observed in the Ecological Reserve. Sports fishing boats were seen in the general area but outside the Reserve.
The elephant seals found the trek to seawater quite an effort today and some of them gave up for a few hours on the way to have a swim. Getting back up the hill was even more of an effort.
Observational efforts were focused in the inter-tidal and on the mega-fauna census today. Another really good tide (0.5m) allowed me to do a large algal survey and find more marine invertebrate species. I will share some of the invertebrates here and come back to the seaweeds tomorrow. In each photo, if you look closely you will notice smaller and smaller animals in a wall to wall competition for space or is it sharing of space.
California Mussel beds are 'old growth' and substantial on Great Race. The large area provides important habitat creating significant diversity.
A brooding sea anemone (Epiactus prolifera) with numerous offspring attached low on the column near the pedal disc.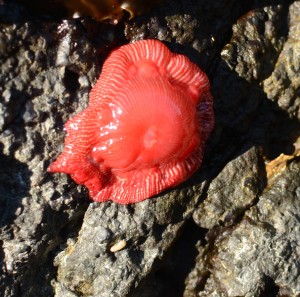 The mottled sea anemone (Urticina crassicornis) is quite common in the low inter-tidal on the south side of Great Race.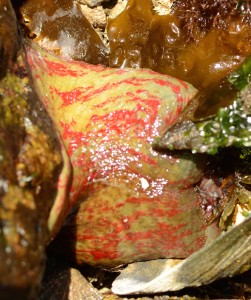 This species of tubeworm, named after Vancouver (Eudistylia vancouverensis) is usually more abundant sub-tidally. Here in the high current area between Great Race and South Islands, it is common in the low inter-tidal.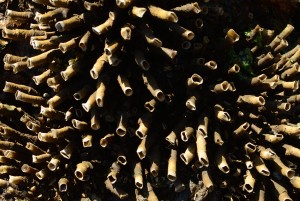 There is a lot of gigantism on the Pacific coast but here at Race Rocks even the giant species seem even more abundant and bigger than I have seen them elsewhere.
Three species of sea urchin were observed today, adding the green urchin (Stronglyocentrotus drobachiensis) to the list. The green and purple both like to "dress-up" aka cover themselves, with shells, seaweeds and even bits of wood. Here they were using empty limpet shells in an area frequented by oystercatchers.
Today was large animal census day and the results are as follows:
Humpback Whale (young (small) animal) 1
Northern Elephant Seals 34 (including 15 on Great Race)
Harbour Seals 179
California Sea lions 17 (includes brand U792)
Northern Sea lions 20 (mostly old males)
Sea Otter 1
Canada Geese 36 (includes 18 goslings)
Harlequin Ducks 8
Pelagic Cormorants 0
Double Crested Cormorants 6
Bald Eagle 2 adults, 3 sub-adults
Black Oystercatchers 10
Greater Yellowlegs 1
Black Turnstones 0 (none seen in spite of searching)
Western Sandpipers 2
Least Sandpiper 2
Pigeon Guillemots 148
Glaucous-winged Gulls total 607 (458 adults in nesting areas; 60 adults in roosting/resting area; 79 sub-adults in roosting/resting area)
Western Gull (hybrid?) 1
Herring Gull 2 (Juv.)
Common Raven 1
Northwestern Crows 2
Barn Swallows 2
Savannah Sparrow 6
There were no visitors today. Chores were routine.