The wind was still, early this morning. It didn't really start moving until mid-afternoon, 5 – 10 knots from an east-southeastly direction. Although it was sunny, there was a haze in the air that made for a blazing sunset last night and sunrise today. I am curious if this is smoke, all the way from Squamish, where there was a big creosote wharf fire a few days ago?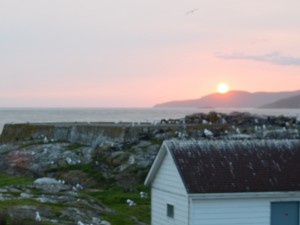 The barometer rose slowly until about noon and then it started to slowly fall, nothing dramatic and no strong winds. The forecast is for more of the same, with afternoon westerlies tomorrow.
Three whale watching boat were noted in the Ecological Reserve today. The last whale watching vessel of the day, idled slowly through, keeping a deferential distance away from the animals, Tourists were out on the bow, shooting pictures of the blazing sunset and lounging marine mammals. It was a tranquil scene. No sports fishers were observed either speeding in the Ecological Reserve or fishing in the closed area, although several passed through at speeds respectful of the wildlife in the area.
Passive Northern Elephant Seal data collection continued. As luck would have it, all seven animals that had been sleeping in the garden, woke up and decided to go for a swim late morning. This allowed me to take their photos as they passed by the measuring device. I was also able to get some photos inside mouths for dentition information while they were wallowing around gargling saltwater and 'wrestling'. Tagged animal #5850 continues to hang out as one of the seven 'gardeners'.
A branded and tagged California Sealion # U 902 was noted hauling out on South Islets this afternoon. Note the large range of sizes of both species.
There are still three pairs of Canada Geese trying to establish nest sites and they are having a hard time finding territories on this tiny island that already has at least nine Canada Goose nests. Maybe they will head over to Vancouver Island where there is more room. Their territoriality can get in the way of other species having a piece of the very small island as they chase off, not just each other, but Glaucous-winged Gulls, Black Oystercatchers and Pigeon Guillemots.
There were no visitors today. Maintenance chores were routine.  About 9:30 PM the phone/Internet went down for the seventh time since I arrived. Even that is becoming routine.