The weather has settled after a couple of blustery days and the sun is shining. Erik and I are refuelling the station which involves transporting about 6,000 litters of diesel fuel from Pedder Bay Marina to the island. We should be completed this afternoon. Hopefully this will last about one year, but that depends on conserving energy/electricity wherever possible.
Seven Pearson students spent last weekend here and we may get another group this coming weekend, however that depends on getting a new part for our desalinator. Without water it is challenging to host our guests, and I may have to ration our dwindling supply for a few weeks until the new part arrives. I counted just under 20 whale-watching vessels in the preserve last week, averaging 2 a day with 4 or 5 on the weekends. I will monitor the numbers more closely as tourist season arrives. DND continues to explode ordinance on Bentinck Island, much to the annoyance of every living thing in the reserve. The percussive shock waves rattle the windows and seem very incongruous with the spirit and intention of this place. I can't quite understand why they won't perform their exercises in an inland location where the noise and pollution can be better contained. I believe they are violating federal guidelines and hope they will take measures to ameliorate the effects of their mandate.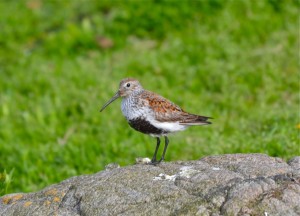 Dunlin
Hundreds of pigeon guillemots are banding the seashore around Great Race and they add a colourful and busy presence to the island. Three scruffy young female elephant seals are busy moulting their pelage. Little scraps of old skin and fur are littering the island, adding to the biological detritus that makes up the bulk of the soil layer along with guano, shell and decayed plant material. A few California Sea Lions are in the area along with the Stellar and Northerns.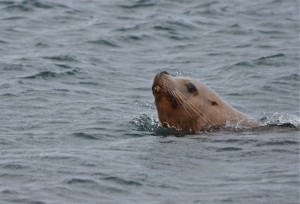 Stellar Sea Lion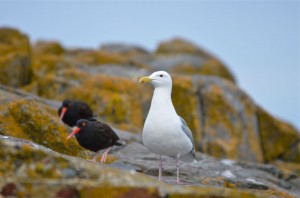 We have a new camera now with a good telephoto lens so I hope to edu-tain you with beautiful pictures of magnificent animals…. stay tuned!